Turkish Airlines fraud and miserable customer service – Part 1
This article is a real-world story of an airline technical failure, which eventually led to a missed flight and financial loss. I want everybody to know about the experience my girlfriend and I had with Turkish Airlines, so you will think twice if you will pick up Turkish Airlines on your next flight.
Cancelled flight and rebooking
Svetlana originally purchased return flight tickets between Prague (Czech Republic) to Astana (Kazakhstan) with a transfer over to Istanbul (Turkey) for the 12th outbound and 24th November 2022 inbound. She purchased both flight tickets on 9th October 2022 and paid 9820 CZK total, equivalent to 408.84 USD or 400.54 EUR on the day of purchase.
The purchase of return flight tickets went through a single website, the Turkish Airlines' official website. According to Wikipedia[1], Turkish Airlines and Air Astana have interline agreements. The interline agreement is also known as interline booking or interline ticketing. Interline agreement means they mutually handle passengers travelling on itineraries requiring multiple flights on multiple airlines. Wikipedia added the following sentence to the interline agreement, which will be good to remember later: "Airlines can also promise free rebooking if the connection is lost due to a delay."
Unfortunately, the return flight from Astana to Istanbul was cancelled on 27th October 2022. She received a cancellation email at 2:35 PM. Air Astana operated the flight. Unfortunately, Svetlana did not get any notice about the reason for the cancellation or any damage reimbursement.
On the other hand, she had a chance to rebook the return flight instead of cancellation. Turkish Airlines website did not ask for any additional fees for rebooking.
The rebooking procedure required booking the outbound flights (from Prague, over Istanbul, to Astana) again to secure a new inbound flight (from Astana, over Istanbul, to Prague). However, all went smoothly, and at 9:59 PM of the same day, she got confirmation of flights again.
However, it was strange. As the author of this article work as a software developer, it is super weird why Turkish Airlines didn't already implement a feature of rebooking only cancelled flights. That is for an airline with over 340 destinations daily pretty stupid additional load on the server due to some stupid executive having no clue about the business.
Day before departure
Days passed, and nothing else occurred until Friday, 11th November, the day before departure. As usual, Svetlana wanted to make a check-in for the outbound flight from Prague to Astana. However, when she opened the Turkish Airline website, the outbound flight was totally absent in the Turkish Airline website. The Turkish Airline website simply did not have a record of the flight in the list of next flights. Can you imagine that? Only the return flight on 24th November was visible.
First, we thought we had rebooked the flights on the wrong date. But then we looked at the email confirmation, and the date was correct.
I immediately called the Polish Turkish Airline customer service as there was no customer service call number for the Czech Republic, and the other neighbouring countries (Austria and Germany) were disconnected.
So I called Polish Turkish Airlines customer service at 4:56 PM. The customer service representative assured me that from his point of view, everything was fine and that he (the customer service representative) "see her on the flight". Therefore, we got confirmation that all is good, and she has reservations on both flights.
We wanted to make a check-in. However, it was unfortunately not possible as the flight from Istanbul to Astana could be made only 24 hours ahead of the flight. However, this flight was scheduled at 10:25 PM Istanbul local time the next day. And as there is a +2 hour difference between Istanbul and Prague, we made the call at 4:56 PM; thus, the possibility of making a check-in on the flight to Astana would come in roughly three and half hours later. Therefore Turkish Airline customer service representative didn't make a check-in for Svetlana.
We can consider it as a mistake, but not rightfully, as we did not call customer service later again. We left check-in for later; we wanted to make it and do it at the airport.
Important note! At that time, we did not get any check-in notice email which would call Svetlana to make online check-in on Turkish Airlines or Air Astana flights which is a standard reminder anywhere else.
Departure from Prague
The next day, Saturday 12th November, we went to the Prague airport as usual, and when the airport board announced the check-in desk, we immediately stood in the queue. It was roughly 2 hours before departure.
When we got to the top of the queue, we stepped forward and came to the free check-in desk. Svetlana wanted to make luggage check-in and obtain boarding passes for two outbound flights to Astana.
However, the Prague airport check-in desk operator could not find Svetlana in her airport system. So she called a local Turkish Airline representative to solve the issue. Turkish Airline representative at Prague airport needed time to solve the problem. Meanwhile, the check-in desk clerk asked us to give space to other passengers who wanted to board the flight. So we stepped away and waited till they figured out the solution.
Five check-in airport desks were opened – one for business class and four for economy class. Two other Prague airport desk clerks stood up and left without paying us attention as they did not have any passengers to process. Then, and only when literally all the other passengers got their flight tickets did the check-in desk operator with whom we initially spoke ask us to come back.
The airport check-in desk clerk confirmed that Svetlana had a seat on the outbound flight to Istanbul and issued her a boarding pass. However, she did not give her boarding pass on the next flight from Istanbul to Astana. She said that Air Astana does not have representation in Prague, so she must go to Istanbul's transfer desk and solve the issue on the spot.
We were quiet in shock! We purchased the flight tickets through a single Turkish Airline portal, and as customers, we didn't do anything wrong. Yet, it was on us to solve the problem. We counted options and made a decision. And as few of them were on the table, Svetlana decided to fly to Istanbul and solve it there.
Prague airport check-in desk clerk took Svetlana's big luggage and dropped it on a conveyor belt. Frankly, at that moment, I got an epiphany and tagged Svetlana's luggage with the giant red Turkish Airline name tag. Just in case the luggage gets lost.
I have to confess. I was not thinking clearly at that moment. I was outraged, and Svetlana was super upset. We did not realize that Svetlana's luggage would not travel to Astana but only to Istanbul. The Prague airport check-in desk clerk also didn't say anything about that. And frankly, the luggage would get lost if things went differently later.
Svetlana became the last passenger to get a flight ticket. We waited 1.5 hours to get a boarding pass, only to Istanbul.
Flight from Prague to Istanbul
Time was getting short, and I escorted Svetlana to border control, where we said each other farewell. It was not easy to say goodbye as we both knew something was off on this journey.
Until she boarded her plane, I tried to google the map of Istanbul airport and tell her the fastest path to the transfer desk at Istanbul airport. However, the official map [2] of Istanbul Airport is super heavy and user unfriendly, and even the my newest iPhone had problem running it. The smartphone browser was constantly crashing the map.
Istanbul Airport web map
Before the take-off, Svetlana also contacted her father and asked for help. He tried to call Air Astana. Unfortunately, he did not manage to solve anything.
After the landing in Istanbul
Svetlana landed on time; according to the schedule, it was supposed to be at 7:55 PM Istanbul local time.
When Svetlana finally managed to get off the plane at Istanbul airport, it was roughly 8:15 – 8:20 PM.
One thing you will forget when flying across Europe is the borders. As Svetlana described it, she had to leave the international zone because she did not have a boarding pass to Astana – the capital of Kazakhstan. Consequently, she left the transfer zone where the Turkish Airline transfer desk was located. So, naturally, that meant passing a border security check.
She rushed to pass the security check to visit the Turkish Airline service desk. At the Turkish Airlines service desk, the Turkish Airlines representatives told her to go to the Air Astana service desk and solve the problem with them.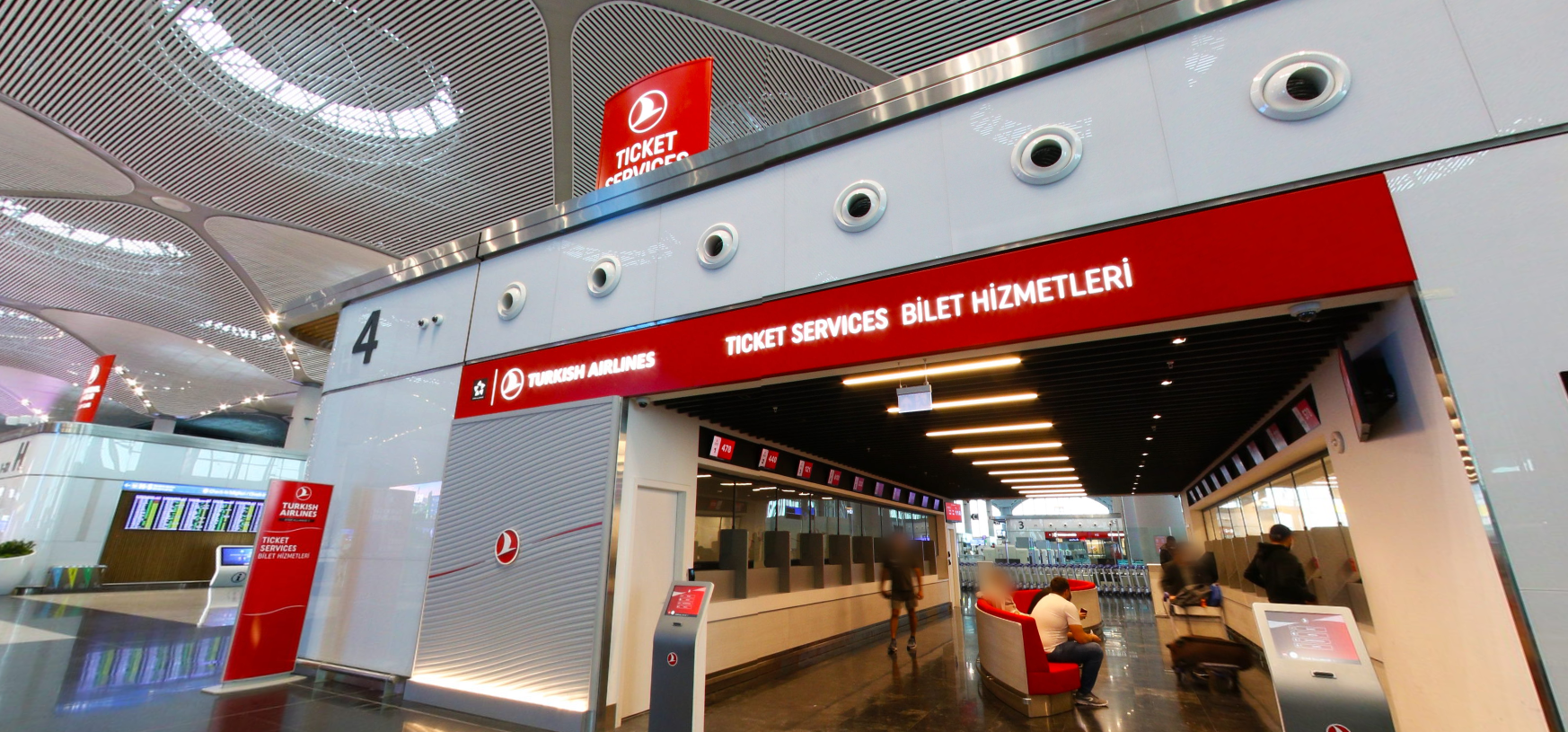 Istanbul Airport Turkish Airlines ticket service
However, when she came to the Air Astana service desk, the Air Astana representative told her that she could not find her in the system and needed to return to the Turkish Airline service desk.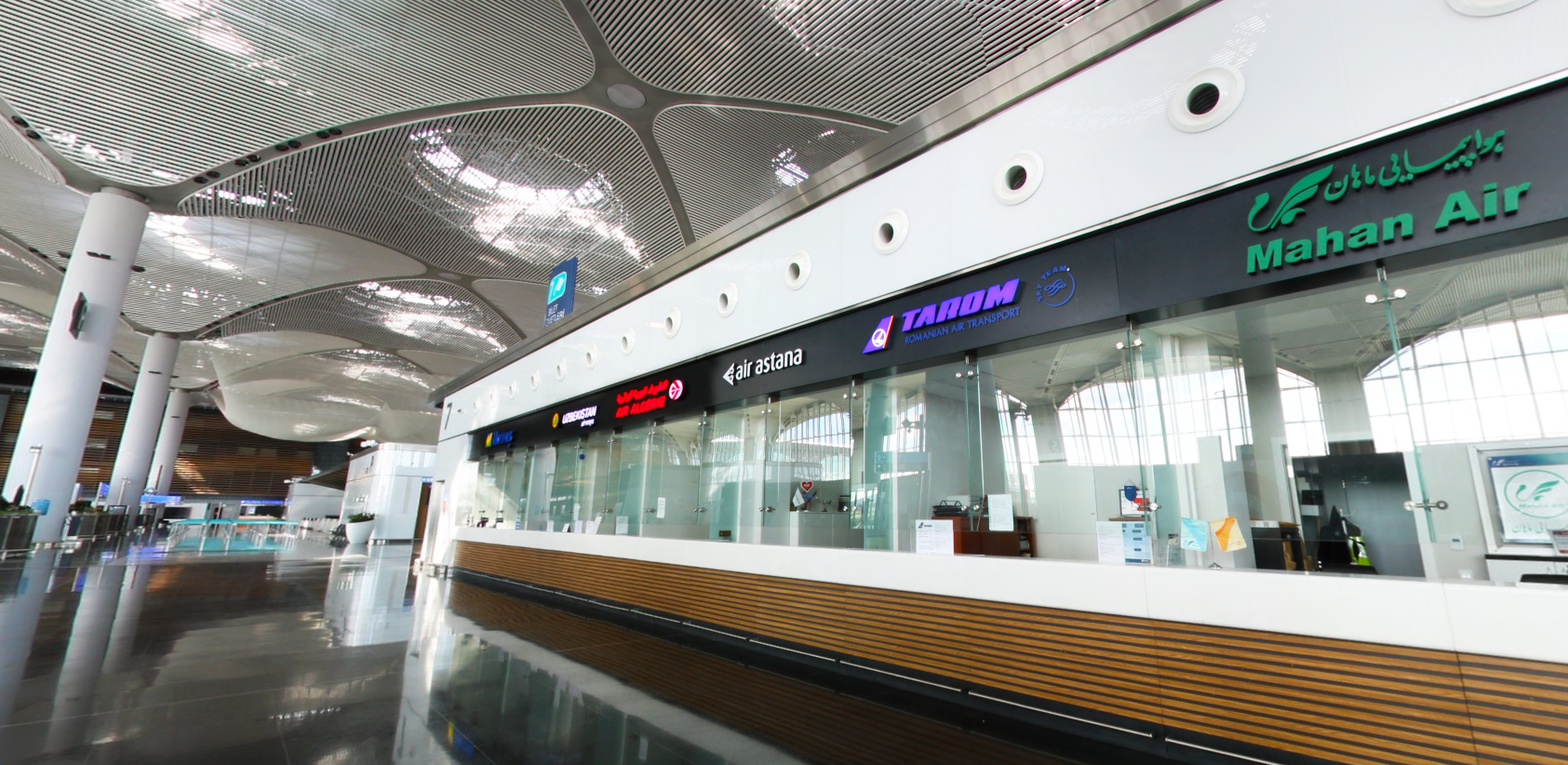 Istanbul Airport Air Astana ticket service
This is only illustrative image of Turkish Airlines web portal for flight ticket check-in as in the time of the incident we did not consider making a screenshot. However, the site looked exactly as on the picture, two days before inbound flight departure.
Yes, you read it right! It was already Saturday at 21:20 Istanbul local time, and Air Astana told her to return and solve the issue with Turkish Airlines because they did not have her reservation in their system.
Naturally, we are talking about the moment when every second counts and Istanbul airport is a massive airport. By the way, didn't I notice that Svetlana didn't have her luggage with her? It was actually a good thing she did not have it right now. Meanwhile, the luggage was chilling on the conveyer belt, back in a secured zone. If she managed to get the boarding pass, she would actually forget about it.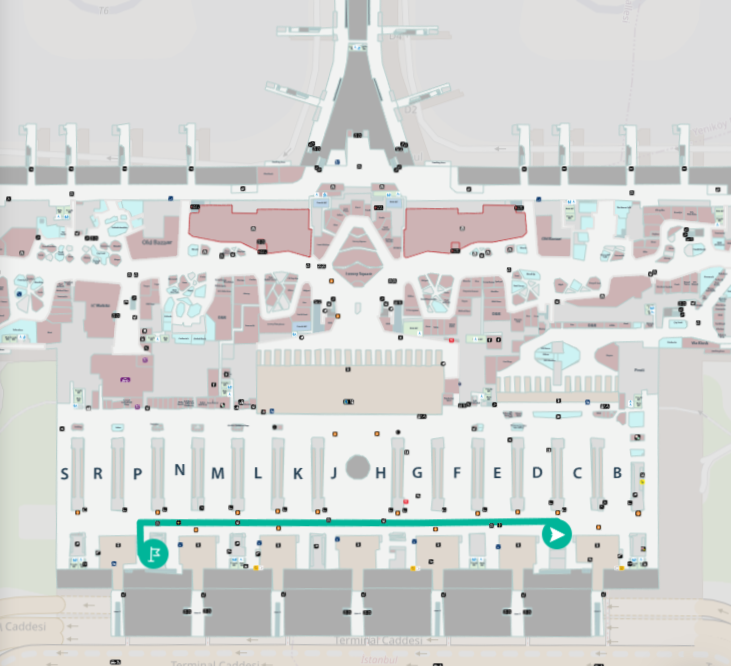 Istanbul Airport service desks location
But what followed was even more shocking. Svetlana's flight was at 22:25 local time. And as gates usually close 20 minutes before departure, she had only 40 minutes left to issue a boarding pass to Astana.
And guess what? When she returned to the Turkish Airlines service desk and tried to explain the situation, Turkish Airlines representatives printed her an "Electronic Ticket Passenger Itinerary Receipt". Then, they told her to go to Air Astana again! After that, Svetlana started to give up.
She went to her check-in desk for connecting flight to Astana where the check-in desk clerk told her she did not see her in the system either. No booking number, no reference.
She returned to the Air Astana service desk, and they told her the same. They could not find her in the system. No booking number, no reference.
She returned to the check-in desk as there were last minutes to get on the plane to Astana. But unfortunately, the check-in desk clerk told her she could not do anything for her as the gate closed. And that was simply the truth. So without any fault on her side of her, she missed the plane.
Official plane departure was 22:25 Istanbul local time.
After that, she broke down. I am not going to describe it. But how would you feel when you did everything you could, did everything right and yet did not board the plane heading to your family you did not see for two years?
All this happened because of multiple layers of errors on the Turkish Airlines side and their customer service not doing anything. This is basically a fraud – taking money for something and giving anything back.
And as she later recalled, she was dealing with a capable person back in Astana who managed to communicate the ticket issue with Turkish Airlines within 10 minutes. More about it in part 2.
Eventually, she returned to the Turkish Airlines transfer desk and wanted to know what to do next.
Svetlana got me (the author of this article) on the phone with one of the Turkish Airline representatives, as my English is much more comprehensive. It was 23:15 Istanbul local time.
And guess what again? The person I talked to turn off my call. I am not kidding you. The Turkish Airline representative at the Turkish Airlines service desk just turned my call off. I could not believe what had happened. I called back, and Svetlana was already crying as she was utterly hopeless as she occurred in the situation absolutely without her fault.
Even more, they basically refused to talk to her anymore as Air Astana, not Turkish Airlines, operated the flight.
Yes, again, you read it right. Turkish Airlines representatives refused to talk to her. All Turkish Airlines representatives did was print her a piece of paper instead of calling Air Astana directly and solving the problem.
She could not even get their names, as they had name tags with some general Turkish first names only.
(Few weeks have passed since I managed to write this story. But I am still speechless. This was a disaster and clear fraud with terrible customer service as a sauce.)
They even dared to tell her they could not do anything for her, but they could sell her a new flight ticket!
Let me recap it all for you. So when Svetlana returned to the Turkish Airline transfer desk, they did not help her at all; she didn't get a boarding pass, she missed her flight to Astana, they refused to talk to her, Turkish Airlines representatives arrogantly turned off my call and they even had guts to tell her that they can sell her a new ticket. At the same time, Air Astana representatives could not find her in their systems, nor could not the check-in desk clerk for the gate heading to Astana.
Staying at the airport
It took another hour for her to mentally collect from what happened. Moreover, she was now in an international zone, and her luggage was still rolling somewhere on the conveyer belt behind the customs.
Let's imagine, just for a second, she would get a boarding pass and fly away to Astana. However, her luggage would still be stuck at Istanbul airport.
Svetlana went to the Turkish Airline hotel reservation desk, which focused on hotels and booking. Then, she realized her luggage was still at Istanbul airport, and she needed to pick it up. So, with the help of this desk, Svetlana returned to the airport's correct section and collected her luggage.
The collecting luggage took another hour. Finally, it was before midnight at Istanbul airport when she knew she needed to devise another plan to get to Astana.
Miserable Turkish Airline Support
Meanwhile, all this was happening; I called the Polish Turkish Airline hotline again and asked for a problem resolution. The only reply I got was that I first needed to fill up a customer feedback form, and they would start solving the issue immediately. Turkish Airline representative literally said, "10 minutes after you will send it". She also said to call back when I fill the feedback form.
I asked her for the exact web address (URL). She didn't give me any and simply answered to check the website.
I picked the customer feedback form [3] where I selected the "ticketing experience" option. I tried to explain the problem within the range of 2500 words and sent it. I sent the form on behalf of Svetlana.
Turkish Airlines customer feedback form
I started looking for flights from Prague to Istanbul for the following morning as I became more determined to rescue her.
Turkish Airlines customer feedback form result
Meanwhile, I received a confirmation email from Turkish Airlines that they had registered my complaint. I called back to Polish Turkish Airline Customer Support hotline. The same Turkish Airline representative as before got me and asked me about the complaint number. She registered it and said she would transfer me to somebody else. She switched the connection to somebody else to whom I explained the situation again. But only the short version, as everything was described in the complaint form. The person I spoke with said they would switch my call to somebody else. And the connection terminated.
I was super pissed. The pure arrogance of Turkish Airlines is simply outrageous!
What is next? What has left?
Although Svetlana was mentally exhausted and psychically shaken, the next course of action was straightforward. I immediately sent her 10 000 Czech crowns, equivalent to 400 USD/EUR that day. Luckily, financial transactions between Czech banks are instantaneous, so she immediately had money on her card.
Physically shaken, she purchased a flight ticket to Astana for the next day from Sabiha Gokcen International Airport with Pegasus airlines. It cost 7124 CZK, which is 302.47 USD or 293.43 EUR. The bank record says it was roughly 00:23 Istanbul local time when she made a transaction.
She also managed to get to the only hotel available at Istanbul airport – YOTEL hotel. Unfortunately, the YOTEL was offering only rooms with double beds as all rooms with single beds were already taken. It cost (3896.50 Turkish Liras) 5174.55 CZK, equal to 219.67 USD or 213.11 EUR. It was past nearly 2:00 AM Sunday, Istanbul local time, when Svetlana opened the door to her hotel room and gave me a brief call about her status.
Sunday – flight to Astana
Svetlana slept for 8 hours, and after 10:00 AM, she check-out from the YOTEL hotel. The hotel receptionist was helpful and told her where to find coaches heading towards Sabiha Gokcen International Airport. She took one soon as possible and managed to cross the Turkish straights and arrive at Sabiha Gokcen International Airport. The bus coach cost 85 Turkish Liras (143.42 CZK on card charge), 6.09 USD or 5.91 EUR. It was roughly one and half hour ride as Sabiha Gokcen International Airport is located in the Asian part of Istanbul side.
When she got to Sabiha Gokcen International Airport, Svetlana finally managed to fly away to Astana, where she landed on Sunday, 13th November at evening hours.
Conclusion
Svetlana purchased a ticket over the Turkish Airline website and, the whole time was not informed about taking any action to prevent such suffering and misery. Moreover, technical faults and the behaviour of Turkish Airlines representatives led to a missed flight to Astana as a no-show.
The whole situation is entirely Turkish Airlines' fault as it failed to show the flight and check-in option at the critical time for both outbound flights (Prague to Istanbul, Istanbul to Astana) on the Turkish Airline website.
Moreover, Turkish Airlines did not provide any standard email or warning about check-in, and a technical issue blocked her from making check-in on both flights. And if Svetlana was supposed to make a check-in over Air Astana separately, she was not informed at all, and the Turkish Airline booking number also didn't work on the Air Astana website.
We are deeply disturbed not only by the technical failure of the Turkish Airline website but primarily by Turkish Airlines' customer service at Istanbul airport, who refused to talk to her and due to whom she missed the second flight. Plus, the ignorance by which the call centre did not assist in the most critical time is also unheard of.
What Turkish Airlines provided is absolutely unacceptable outrageous behaviour towards us, the Turkish Airlines customers.
Consequently, for future trips to Istanbul or Astana, we will either do them by Pegasus or select an alternative route that does not use Turkish Airlines. We also discussed the incident with our family, relatives, friends and colleagues and shared all the information publicly on our social media. The impact is significant!
We would like to know how and where happened the technical error, how Turkish Airlines will prevent such outrageous Turkish Airline representative's behaviour in future and how Svetlana will be compensated as she suffered emotional shock and, without assistance, purchased on our expenses hotel and transport in Istanbul, and substitution flight from Istanbul to Astana.
We expect coverage of all expenses on top of the minimal compensation based on EU directive – https://europa.eu/youreurope/citizens/travel/passenger-rights/air/index_en.htm#compensation-delay-2
Before the flight, my girlfriend, Svetlana, had been waiting almost two years to see her family again. Therefore the whole situation which happened was utterly shocking and shameful.
Total damage
| | | | |
| --- | --- | --- | --- |
| Item | USD | EUR | CZK |
| new flight ticket to Astana from Istanbul | 302.47 | 293.43 | 7124 |
| YHOTEL room reservation | 219.67 | 213.11 | 5174.55 |
| bus transfer to Sabiha Gokcen International Airport airport | 6.09 | 5.91 | 143.42 |
| Total damage | 528.23 USD | 512.45 EUR | 12441.97 CZK |
Timeline
Date
Time
Situation
9. Oct. 2022
17:24 Prague
Svetlana purchased return flight tickets from Prague to Astana via the Turkish Airlines website operated by Turkish Airlines to Istanbul and Air Astana from Istanbul/ She received confirmation email.
27. Oct. 2022
14:35 Prague
Svetlana got a notification about the return flight from Astana to Istanbul being cancelled.
21:59 Prague
Svetlana rebooked the return flight from Astana to Istanbul. She received confirmation email.
11. Nov. 2022 (Friday)
16:56 Prague
We called customer service in Poland to verify if there was a problem with the flight the next day. We got oral confirmation all is fine with Svetlana.
12. Nov. 2022 (Saturday)
13:05 Prague
Check-in desk opened at Prague Airport
13:35 Prague
Check-in clerk said she couldn't find Svetlana in her system and needed to consult the issue with the Turkish Airline representative at the airport. We should wait to solve the situation and allow other passengers to collect their boarding passes.
14:00 Prague
Another check-in clerk stand up and leave. They ignorantly do not notice us waiting.
14:30 Prague
Check-in clerk solved the situation. But only to Istanbul. Svetlana must get the other boarding pass to Astana in Istanbul because Air Astana does not have a representative in Prague. Svetlana leaves for custom control.
15:25 Prague
Svetlana flew to Istanbul on time.
22:05 Istanbul time
Gate for the flight to Astana is getting close.
22:25 Istanbul time
Plane to Astana officially departure.
21:15 Istanbul time
Turkish Airline representative hang on me.
13. Nov. 2022 (Saturday)
00:23 Istanbul time
Svetlana purchased new flight ticket from Sabiha Gokcen International Airport to Astana via Pegasus Airlines.
~ 1:00 Istanbul time
Svetlana purchased room in YOTEL.
~ 2:00 Istanbul time
Last call with Svetlana be goes to bed.
References
1 https://en.wikipedia.org/wiki/Air_Astana#Interline_agreements
2 https://www.istairport.com/en/passenger/maps/airport-map?locale=en
3 https://www.turkishairlines.com/en-us/any-questions/customer-relations/feedback/