Restaurant Gruzie and James Joyce Pub in Prague
It was my 35th birthday, and Svetlana decided to invite me for dinner. For a very long time, she craved shashlik. Thus, Svetlana decided to book a spot in Gruzie restaurant. Despite this being my birthday, I was okay with that unless she would pay for it all.
Frankly, I was looking forward to this as I started collecting visits to Central Asian restaurants in Prague. You can read more about my last year visit of Uzbek restaurant Samarkand.
Gruzie restaurant in Prague
Gruzie Restaurant is part of 3 thematic restaurants you can find downtown in the old Prague Jewish Quarter. First is La Casa Argentina, with the theme of serving Argentinian stakes and meat. The second is the Asian Temple, serving various classic Asian dishes. And the third is Gruzie restaurant, serving traditional Georgian cuisine.
We had a reservation in Gruzie restaurant at 7:30 PM. Svetlana was already at the table when I arrived.
The waitress gave us the menu in the shape of big wooden books. Svetlana helped me to order the best dishes and communicate with the staff. As the guest of honour, I decided to enjoy the ride and refrained from participating in the conversation, which primarily took place in Russian.
The Gruzie restaurant interior is charming, and it was obvious that somebody took care of the details in the interior. Various items and musical instruments from Georgia adorned the walls, while the ambient music played Georgian folk songs. It was a little magical.
The food was excellent and served in a fascinating style. As the first course, we ordered traditional Georgian dumplings. Fortunately, as Georgian cuisine is very close to Kazach cuisine, I was familiar with the dumplings.
We ordered traditional Georgian Sashlik and two glasses of Georgian wine as the main course. The wine was excellent and sweet; shashlik meat was kept warm by a small tray full of burning coal. That was not the safest thing to do in the underground cellar without windows. But undoubtedly impressive for the atmosphere. We got a substantially significant portion of potatoes as a side dish. I would only appreciate a bigger variation size of sauce selection as we got only sweet-and-sour sauce which was different from my taste.
We had a nice laugh and discussed various topics. And then it came to me – Svetlana's surprise. I was astonished as I did not expect such a surprising move from her. She arranged a cake with a fire sparkler. I was overwhelmed as I did not know what to do with the burning rocket engine ahead of me. I tried to wish for something and blow it, but the stream of hot sparks continued uninterrupted. And I thought that hot coal on the table was the dangerous thing here 😀
Eventually, the sparkler stopped burning, and we could enjoy our cake.
Overall, I evaluated the experience positively, as the staff was amiable and helpful, and the environment was impressive. However, as spoiled as I am, I wish there were more options and variations for sauces to the meat.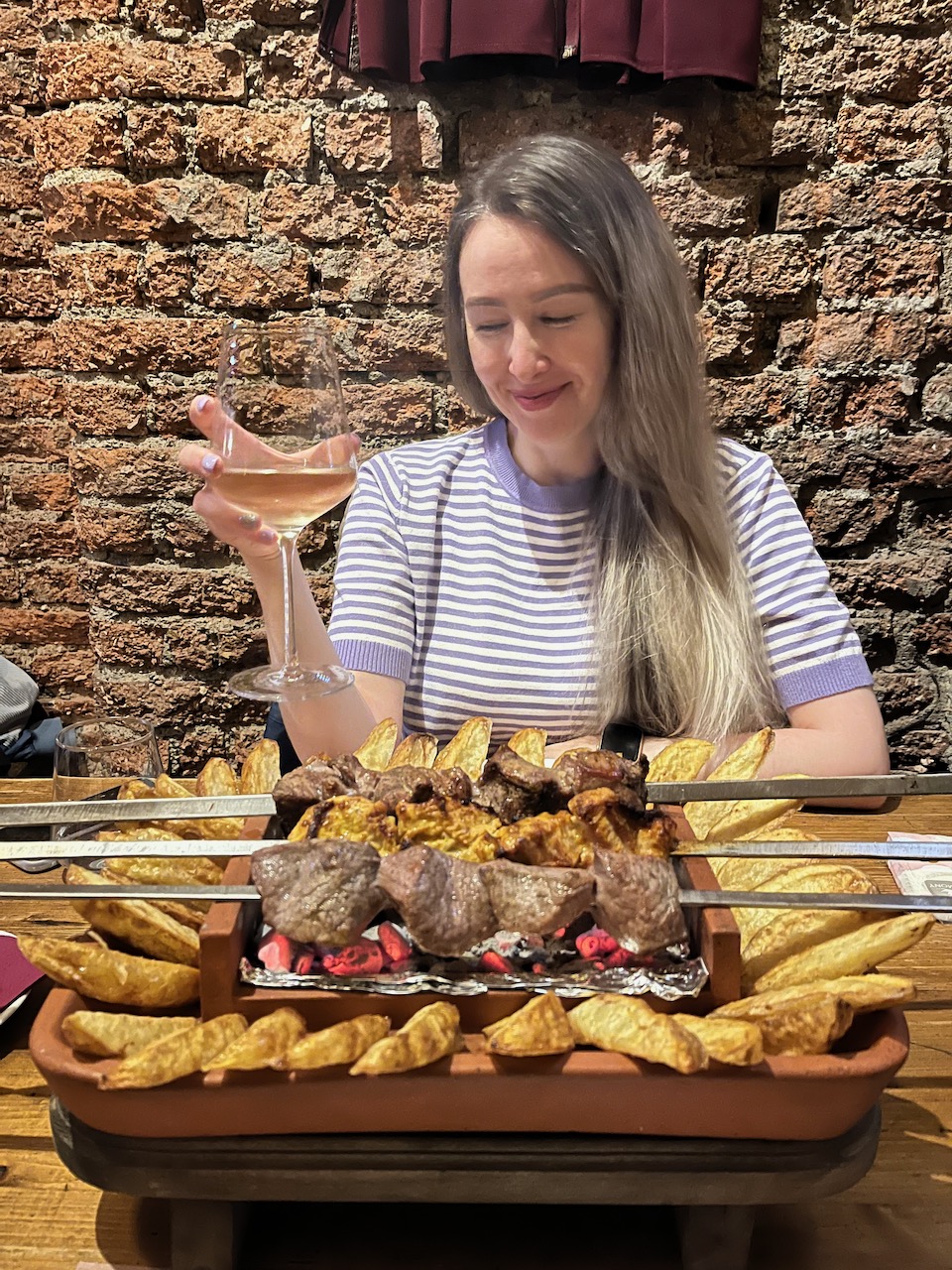 James Joyce pub
When we finished the Gruzie restaurant, I knew we were close to one particular pub I had wanted to visit for a long time. After an initial search, we found the Irish pub The James Joyce (https://goo.gl/maps/3E58wiY2Foc4wqux8)
The pub, which did not look anyhow more interesting than anything else lying in Prague's downtown, remained open despite it already being 9:00 PM. Except for one tiny important thing – the whole London scene from the Eurotrip movie was filmed here. The video of the movie scene is below.
The movie formed my youth, world opinion and my whole generation. Hammer time!
Every time I think about this scene, I am laughing. I found this trivia only a few months ago and am still surprised by it. They filmed more scenes in Prague, but I thought they had gone to London for this one. How fullish from me.
Well, the pub is not the headquarters of the Manchester United football club. But it had a unique "pub" atmosphere. And indeed, having a proper pint of Guineas was a highlight of my birthday.