Prague Botanical Garden Visit During Butterfly Exhibition
I have heard about a marvellous exhibition of live butterflies in Prague Botanical Garden from my colleague. Before live exhibition visit, I had teambuilding at Vinohradky Parlament restaurant at Vinohrady. My colleague told me about his trip to the Prague Botanical Garden, and I was instantly excited. He also said the best chance to see living butterflies is right now, as their incubation season has just started. I immediately thought that would also be a great surprise for my girlfriend Svetlana.
Day after the team building, it was Friday in the middle of April, and I ordered Bolt (an alternative to Uber). In a time we managed to get down from the flat on the street, the driver came. His name was Abdul. He was friendly, but we didn't talk much. However, he was not a very skilled driver. While he was behind the wheel, we visited nearly every neighbourhood, from our place to Prague Botanical Garden. I swear, he drove us through city parts I had never seen, and I have lived (at the time of this story) in Prague for several years already. After more than half-an-hour drive, we managed to eventually get to Dejvicky tunnel, where he let the side window open. Overall, the share-driving experience pushed me to evaluate my life choices and why I still use public transport and do not buy a car. The 20-mile trip cost us roughly 20€. I gave Abdul a 5-star review with a 2€ tip, hoping I would never see him again.
The Botanical Garden is located in the tranquil Prague neighbourhood Troja on the Northside of Prague. It used to be a serene village with a chateau, and the place keeps its vibe till today. I will mention that the Botanical Garden, Prague's ZOO, and Troja chateau are all neighbouring each other.
We passed the gate very quickly. While there was a queue by the ticket booth, I purchased entry tickets an hour before our arrival, thus avoiding standing in the ticket line. I showed QR codes from email to entry tourniquet, which let us in, to my surprise. Frankly, I was super happy about the whole situation. However, I was shooting point blank and didn't know if the QR would work or if it needed to be verified by somebody.
Moreover, the place didn't look overcrowded as I was worried. It was Friday afternoon, and several school excursions were running around. Otherwise, people seem to be very dispersed around the Botanical Garden. As you can imagine, the butterfly exhibition can be a great attraction in a big city like Prague. The situation will undoubtedly change during the weekend, and a significant number of visitors will crush the place.
We continued our visit to the greenhouse named Fata Morgana, located just several steps from the Botanical Garden entry. We went through the greenhouse entry, and another tourniquet demanded a QR entry code. The greenhouse lobby was full of families with a baby stroller and their tiny kids inside. It looked like every 3rd family had their child buggy. What surprised me was that the tourniquet had a custom part for passing the baby stroller.
Note: Entry to the greenhouse is allowed with a baby stroller.
We let one family ahead of us because I couldn't load my QR codes on my phone. I felt uncomfortably in a rush as people were waiting behind us. But immediately when we got inside, we were astonished by the fantastic green lush green scenery all around us. Tropical plants and succulents surrounded us.
The greenhouse is divided into three sections. The first section is designed to reflect more deserted environments like volcanic ocean islands. The second section was designated to remind tropical forests, and the third section had the highest humidity. In the third section, we have also found several carnivorous plants while sprinkles spread sporadically white haze upon our heads.
Fata Morgana greenhouse inside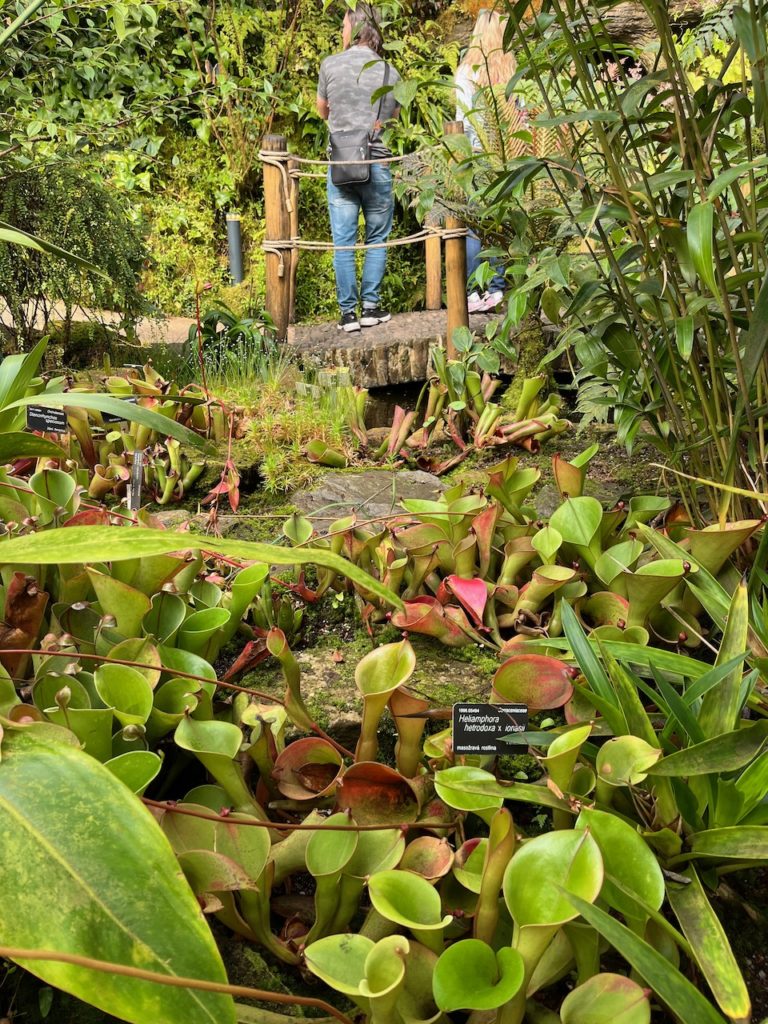 Heliamphora Heterodoxa – carnivorous plant
The greenhouse has even underwater passage where you can observe life in two different fish tanks. I think, in one, I saw legendary Brazilian piranhas or at least fish which look like piranhas. In the other fish tank, we caught with our eyes a fish which remained us the living fossils. Moreover, I swear I saw even stingrays floating in one pond in the second section of the Fata Morgana greenhouse.
Greenhouse fishtank – Are those piranhas ?
The second section of the greenhouse was the place where all the butterfly magic was happening. We have observed closely several different species of butterflies. One butterfly even selected Svetlana as a resting place. Walking through the green greenhouse jungle was an excellent and rare experience observing flagellant butterflies closely.
Here are a few nice closeups:
Butterflies everywhere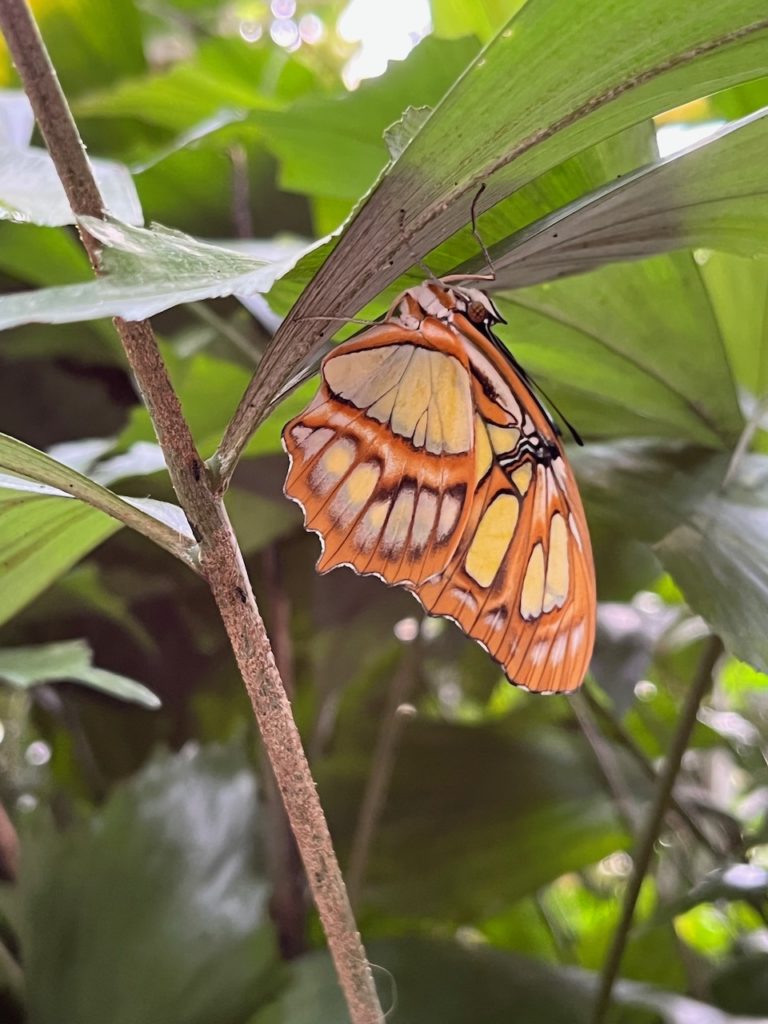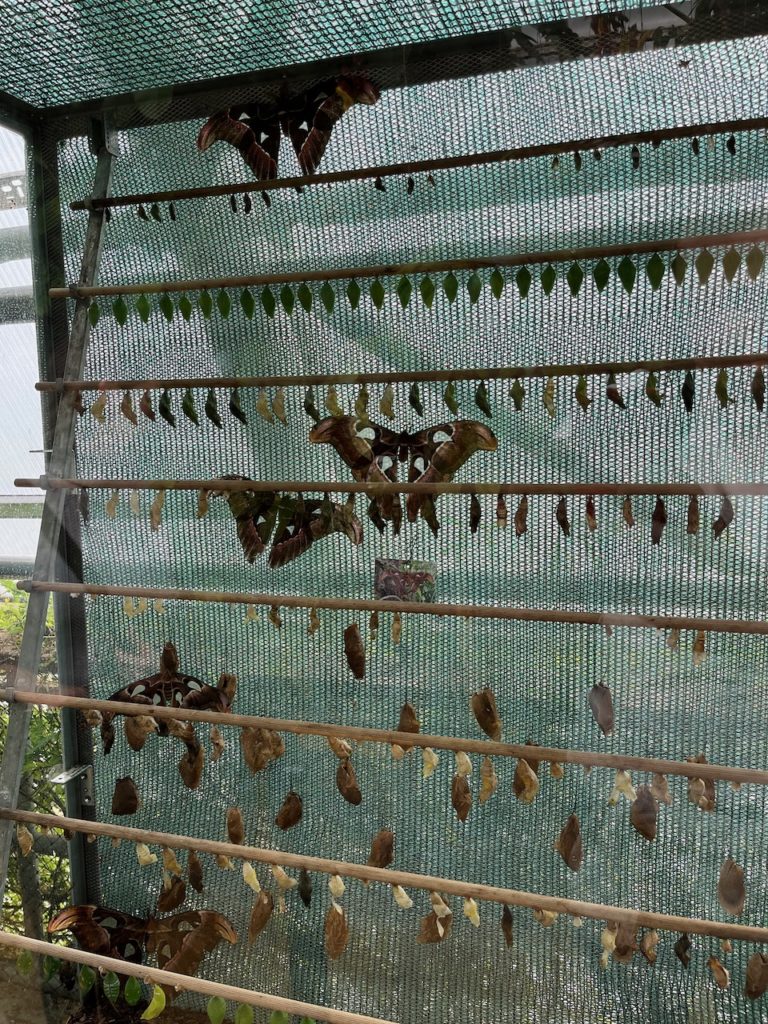 Butterfly cocoons
When we finished the greenhouse exhibition, it was roughly 5 PM. We walked down to the Botanical Garden entry, where the cafeteria is located. We stopped by for a moment and enjoyed the sweet cakes and coffee.
After enjoyable refreshment, we left the Botanical Garden and walked a hundred meters down the street until we came to Prague's ZOO. Here is located a public bus stop. However, Svetlana wanted to show me the Troja Palace garden instead of jumping on a bus. Apple trees were blossoming, and she was very excited to take some nice pictures. The Troja Palace garden contains even a maze made out of living plants. I have visited Troja Palace garden for the first time, although I have been running around several times before. However, the most unique and exciting place from the outside is the staircase behind the palace made of sculptural statues representing the fight between gods and giants. It is several floors high, and you can see a black pit where the giants fall.
Note: Entry to the garden of Troja Palace is free of charge.
Troja Palace
The day was ending, and it was time to go home. We wanted to burn some calories and decided to walk home as far as was in our power instead of taking a bus. We crossed the Troja Bridge nearby and, through the Emperor Island, got to the biggest Prague park, Stromovka. We stopped by and felt a moment on the park bench. Park was in absolutely great shape, cleaned, with adequately cut grass. Dogs were running around, and several families with their kids made a picnic.
It was a lovely afternoon in Prague's Botanical Garden with butterflies that we will remember for a very long time.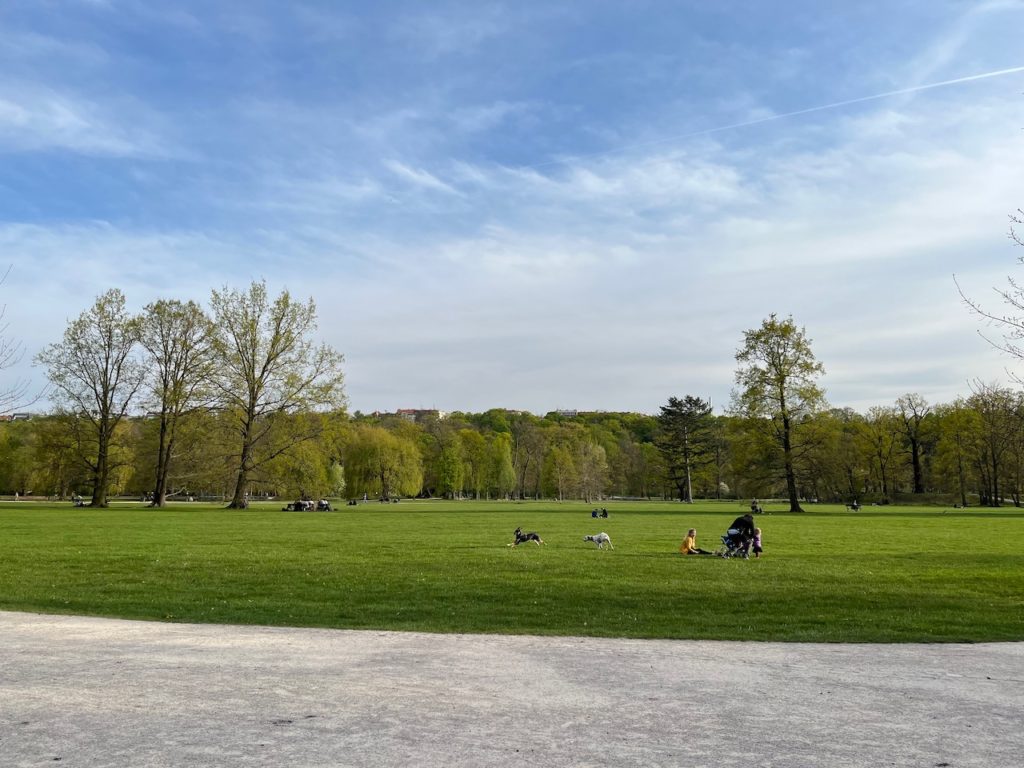 Stromovka park